Soundcraft Ui16Remote-Controlled 16-input Digital Mixer
The Ui Series mixers feature cross-platform compatibility with iOS, Android, Windows, Mac OS, and Linux devices, and can use up to 10 control devices simultaneously. In addition, the Ui16 features built-in Harman signal processing from dbx, DigiTech and Lexicon, including dbx AFS2, DigiTech Amp Modeling, and more. The Ui16 features fully recallable and remote-controlled mic gain and phantom power, along with 4-band parametric EQ, high-pass filter, compressor, de-esser and noise gate on input channels. Ui16 also offers independent network interfaces on board for simultaneous control by Wi-Fi and Ethernet, plus a floor-ready rugged chassis for live applications.
Powerful Digital Mixing with Any Device
Tablet, PC, smartphone? Ui's revolutionary browser-based interface lets you use any device, in any combination – regardless of platform. Ui is fully compatible with iOS, Android, Windows, Mac OS and Linux devices. Mix on a large format computer screen, adjust in front of house on a tablet, and set monitor mixes from smartphones…it's up to you.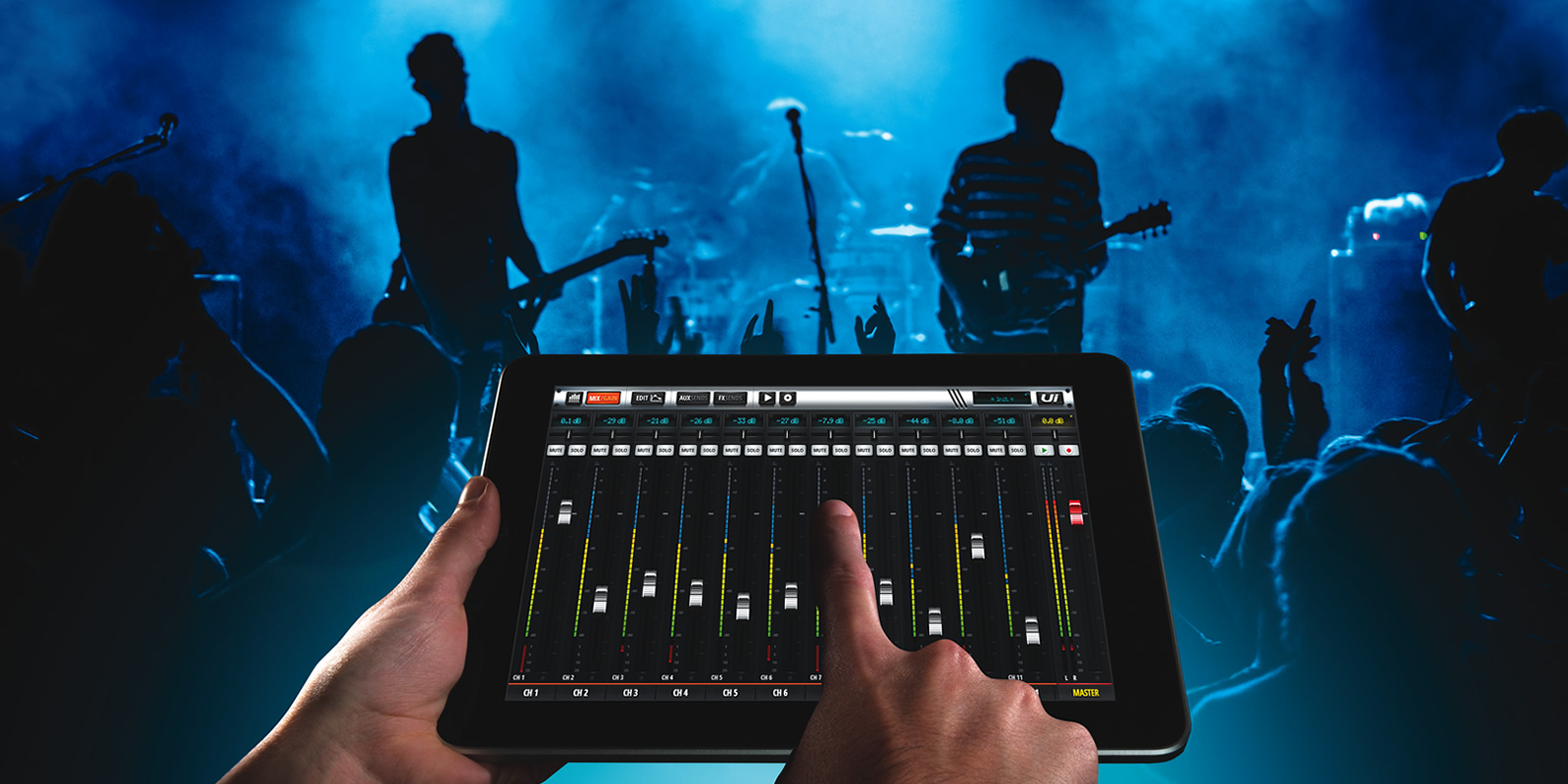 Uncompromised Connectivity
Ui hardware is loaded with all the connectivity you'll need to run the show. XLR mic and combo inputs with fully recallable and remote-controlled mic pre's, stereo RCA inputs and dedicated Hi-Z inputs, optimized for acoustic guitars, electric guitars and basses. Outputs include balanced XLR and 1/4" main outs, XLR auxiliary outs and headphone connectivity. There's even USB connectivity for 2-channel playback and recording direct to USB storage devices.
Save the Perfect Settings for Every Song
With Ui's Snapshot recall system, you can create the perfect mix for a show, or even individual songs, and save the settings to be recalled at will. Need a subdued, effects-laden mix for the acoustic ballad? No problem, just call it up. Then hit recall to load in the settings for the full-tilt rock number that follows it up. With advanced password protected access limitation features, you can limit users to only the functions you allow them to change.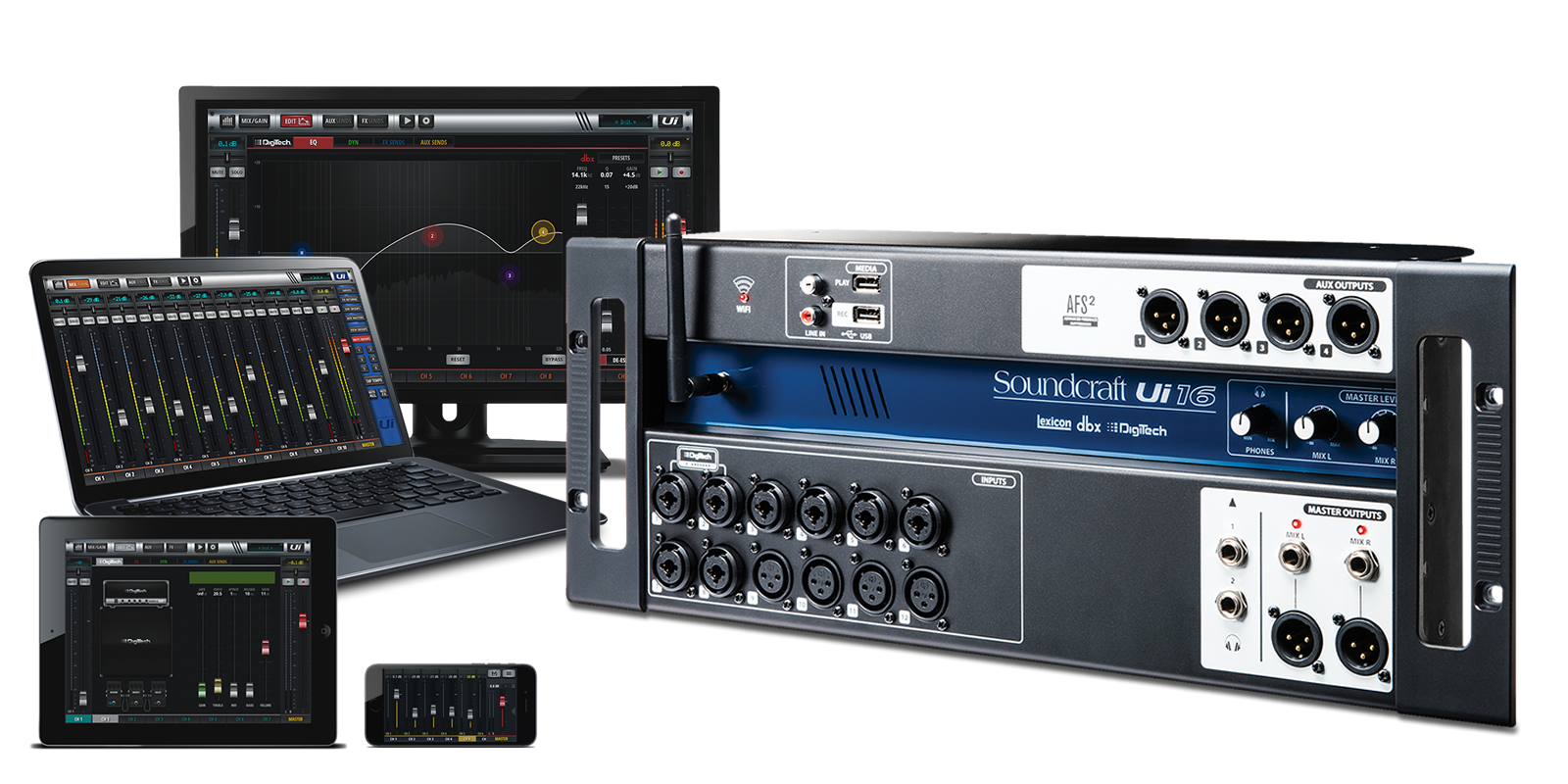 Features
Tablet/PC/Smartphone Controlled Digital Mixer
Integrated Wi-Fi
Cross-platform compatibility with iOS, Android, Windows, Mac OS, and Linux devices
Use up to 10 control devices (tablets, phones, PCs) simultaneously
Legendary Harman Signal Processing from dbx®, Digitech®, and Lexicon®
Fully recallable and remote-controlled mic preamps
4-band Parametric EQ, High-Pass Filter, Compressor, De-esser and Noise Gate on input channels
31-band Graphic EQ, Noise Gate and Compressor on all outputs
Real-Time Frequency Analyser (RTA) on inputs and outputs
3 dedicated Lexicon® FX effects processors: Reverb, Delay and Chorus
Subgroups, Mute Groups, View Groups, and more mixer controls
Show/Snapshot recall with channel safes and security lockout
2-channel USB audio playback and recording
Password-protected Access limitation system
Sync ID (multiple browser windows staying in channel Sync)