Behringer MS16 
The Behringer MS16 2-Way Active Nearfield Monitors (Pair) are a pair of inexpensive powered, stereo monitors speakers, magnetically shielded, and housed in bass-reflex ported enclosures. Each 2-way speaker, equipped with a 4″ woofer and a 1.5″ tweeter, is powered by an 8W amplifier. The system is designed for desktop multimedia production and entertainment use.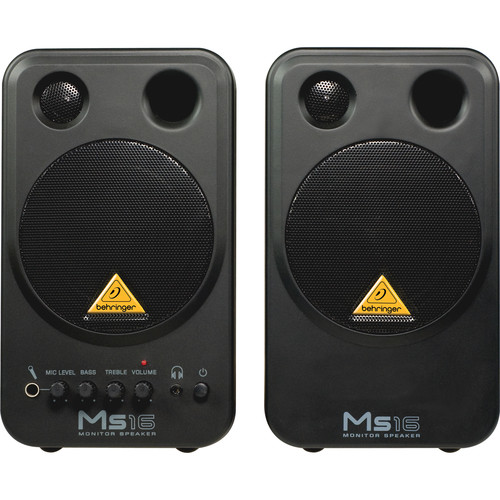 The MS16 features a microphone input and headphone output, bass and treble tone controls, and two independent line inputs, on 1/8″ stereo mini and RCA phono connectors, which allow for simultaneous monitoring of different audio sources. All controls are located on the Right speaker's front panel, and the audio inputs are found on that speaker's rear panel. The speakers are connected by a pair of RCA jacks, and are designated Left and Right, conforming to a Main/Satellite speaker design.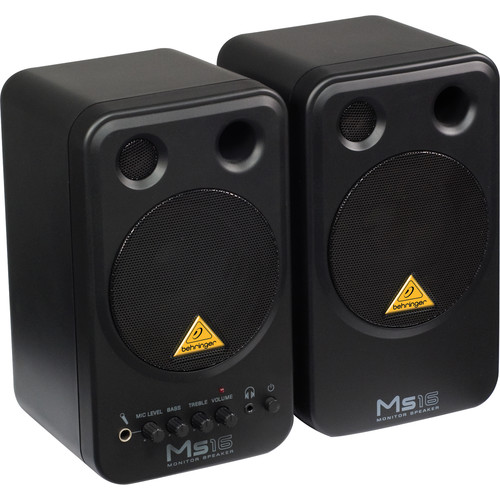 The MS16 represents a very cost effective alternative for desktop audio monitoring.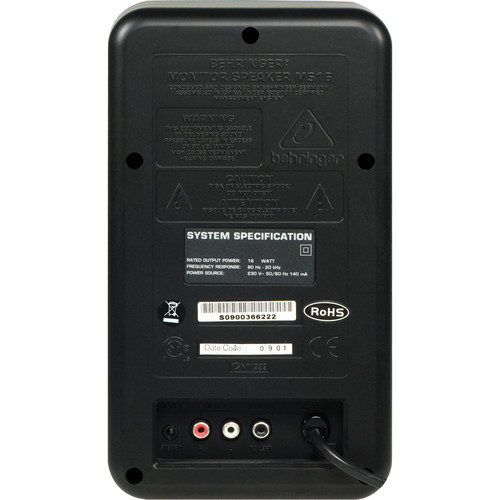 Inexpensive desktop multimedia audio monitoring speaker system with ported bass reflex enclosures and magnetic shielding
Left and Right stereo speakers with 8 Watt amplifier, 4″ woofer and 1.5″ tweeter per speaker
Front panel Microphone and Volume knobs, Bass and Treble controls on Right speaker
Separate 1/4″ TRS Microphone input for vocal monitoring, mixing with line sources
1/8″ and RCA Line inputs for simultaneous monitoring from 2 different audio sources
1/8″ stereo mini headphone output with auto-mute speaker function
All controls and audio inputs on Right speaker