The Lidix 50 money counter delivers "Uninterrupted bill processing" via the two pocket design.
In Mixed mode, if a suspect bill is encountered it is automatically deposited into the upper tray. Counting goes on, uninterrupted. In Sort mode, the entire stack is processed without interruption. All bills in the stack that are the same denomination as the first bill into the processor are sorted to the lower tray.
The advantages of a 2 pocket design are immediately evident, processing, sorting, facing or counting all denominations, in a single stack and delivering "uninterrupted processing" with state of the art accuracy and speed.
Combine these features with a printer or your PC and the Post POS Lidix LFX 50 becomes an invaluable tool in your cash processing operations.
(Printed report similar to below but including
date and time for added security.)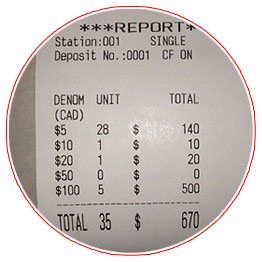 Using a 2 pocket discriminator pays back dividends.
Improving accuracy
Saving substantial time
Delivering added security
Reducing losses due to counterfeiting.
every time the counter is used.
Counterfeit detection
Multiple, improved counterfeit detection processes are used to reduce the likelihood of any counterfeiting bills getting thru this machine, undetected.  All are included at no extra cost. If a counterfeit is detected, the processor places the suspect bill in the upper tray and continues with the count, uninterrupted.
Environmentally Friendly:  The "Dormant Screen" feature extends screen life. This counter is built to last.