ehringer S16 
The Behringer S16 Digital Snake I/O Box takes the burden out of connecting your FOH (Front of House) console with the talent monitor. It provides 16 fully programmable, remotely controllable high-end mic preamps, 8 analog, balanced XLR returns at the stage end, and connects to the FOH through a single CAT5 cable without the need for a dedicated router.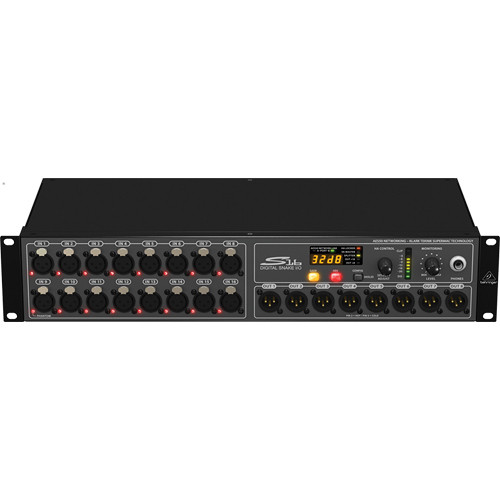 This I/O box is designed with multiple scenarios in mind; it works equally well as a stand-alone pair for use with analog mixing consoles, or as part of the trio of a digital mixing solution along with the X32 digital mixer and P16 personal monitoring system. It is a 16-in and 8-out stage box that features AES50 networking with the Klark Teknik SuperMAC technology.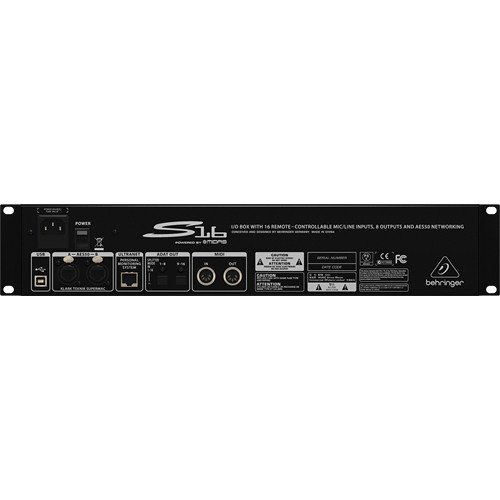 The 16 Midas-designed XLR inputs are fully programmable and remote controllable from the X32 digital mixer. The 8 balanced XLR outputs provide ample sends to the stage for mains and monitoring. The front panel also allows the level and phantom power to be controlled for all inputs and outputs, accompanied by an 8-LED meter and 7-segment display. The currently selected channel can be monitored in mono through a 1/4" TRS headphone jack with level control.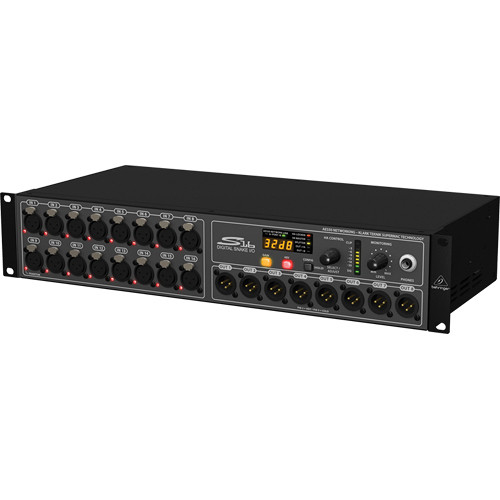 The dual AES50 jacks allow transmission of all audio and MIDI data to the X32 FOH with a single Ethernet cable, and also allow up to three S16 boxes to be cascaded for maximum channel count. In this scenario, 48 bi-directional audio channels at 24-bit / 48 kHz can be transferred on just one CAT5 line between the FOH console and the stage, including 48 analog inputs from stage, 24 analog outputs on stage, as well as the 16 Ultranet channels, MIDI data, and head amp remote control.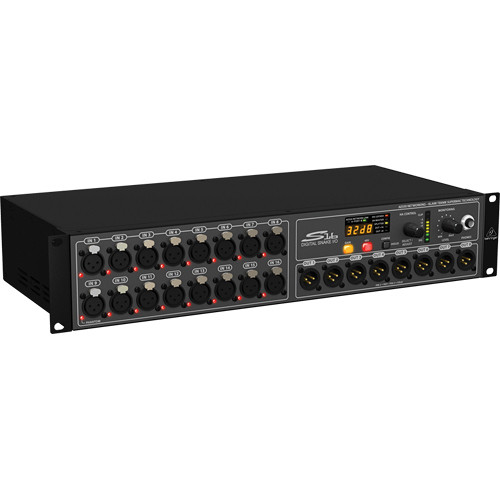 An additional Ultranet output provides 16 channels for use with the P16 personal monitoring system through the Ethernet cable, allowing each musician to dial in his or her own custom mix from the stage. A pair of ADAT ports can carry additional sends to the stage beyond the 8 analog outputs, or split the 16 inputs. Lastly, a USB jack allows for future firmware updates.
16 Remote-Controllable Midas Preamps
8 Outputs
AES50 Networking
Klark Teknik SuperMAC Technology