The Qumi Q5 pocket projector is the perfect device to share videos or pictures with friends, and is equally at home in the business environment. With a weight of just 490 grams, this is the smallest projector with a feature set to match business or pleasure. Q5 packs a punch with a brightness of 500 ANSI Lumens, HD quality resolution, and a contrast ratio of 30,000:1 to deliver crisp and colourful pictures. Q5 can display a host of image and video files, presentations, Word, Excel or Adobe PDF files from files in a native format from a USB flash drive or from the on board memory. It is the perfect portable companion.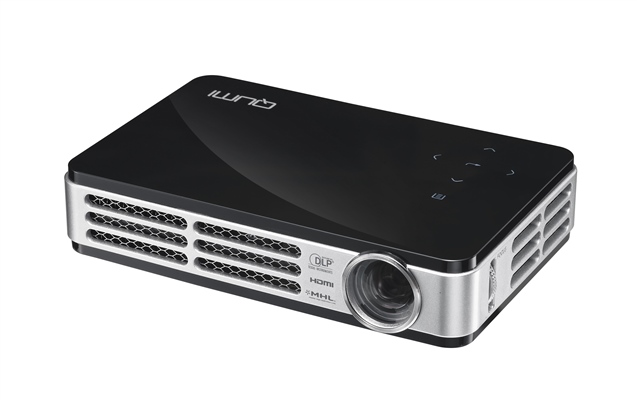 BrilliantColor™
BrilliantColor from Texas Instruments is a multi-color processing technology that produces vibrant images. BrilliantColor technology uses up to six colors, instead of just the three primary colors, red, green and blue, to improve color accuracy and brightens secondary colors.
3D Ready
A projector that is 3D Ready can accept a 120Hz frame-sequential 3D signal from a computer. These projectors are not compatible with the HDMI 1.4 3D specification used on 3D Blu-ray players and set-top boxes. 3D ready uses DLP Link Technology from Texas Instruments.
HDTV
High-Definition Television. Generic term that indicates a higher resolution format than previous standards. At present, denotes anything higher than a 480p signal. Most common formats are 720p, 1080i and 1080p.
HDMI
HDMI (High Definition Multimedia Interface) is an uncompressed, all-digital audio/video interface that supports audio/video sources such as a set-top box, DVD player, A/V receiver, and video monitors such as a digital projector or digital television (DTV). HDMI is backward compatiable with DVI 1.0 specification and supports HDCP.