55" 4K UHD digital flipchart with a natural, paper-like writing experience for making meetings and brainstorms more productive
Intuitive to use and easy to present, save and share your ideas
Portable, wheel based stand (sold separately)1 and instant-on allows you to start a meeting anywhere, anytime
Instantly recap and distribute notes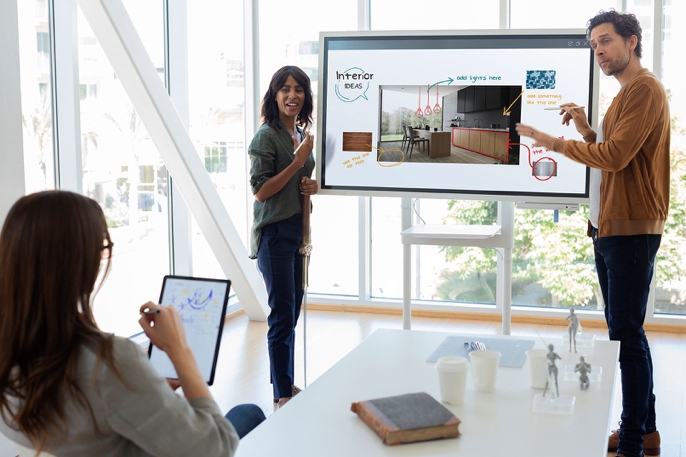 Hold Better Meetings, Have Better Outcomes
Samsung Flip is the way forward-thinking companies conduct meetings. With the Flip digital flipchart, you can efficiently capture and share ideas, making meetings and brainstorms more productive. It's simple to create, save and share digital notes easily.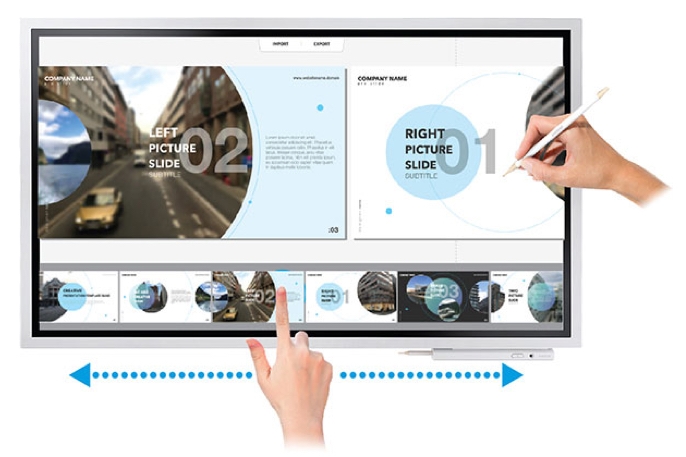 Leave Paper Flipcharts and Whiteboards in the Past
No unwieldy paper to deal with. No messy, squeaky markers. You can effortlessly scroll between pages, and erasing the page is a simple matter of a quick swipe of the finger or palm. You'll always have a fresh, clean page ready to fill with ideas.
A Natural, Fluid Writing Experience
The Samsung Flip offers an exceptionally natural, paper-like writing experience. Enjoy the smooth, fast, familiar feel of traditional writing in a versatile digital format, and write or draw in a variety of colors, styles and widths.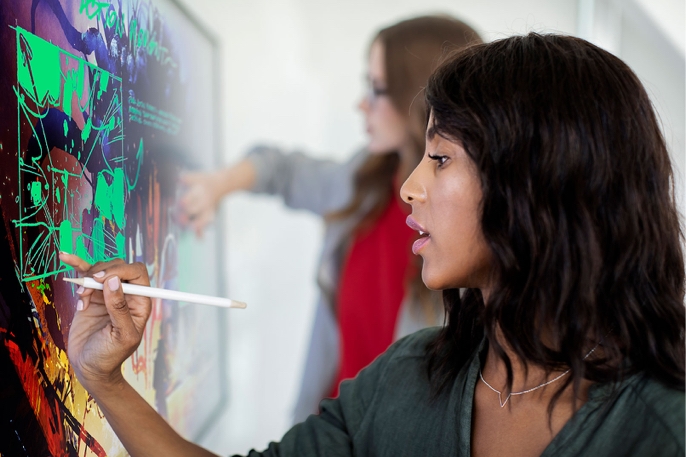 Up to Four People Can Write Simultaneously
When ideas come quickly, you can capture them all. The Samsung Flip is able to easily process four different writing inputs at once.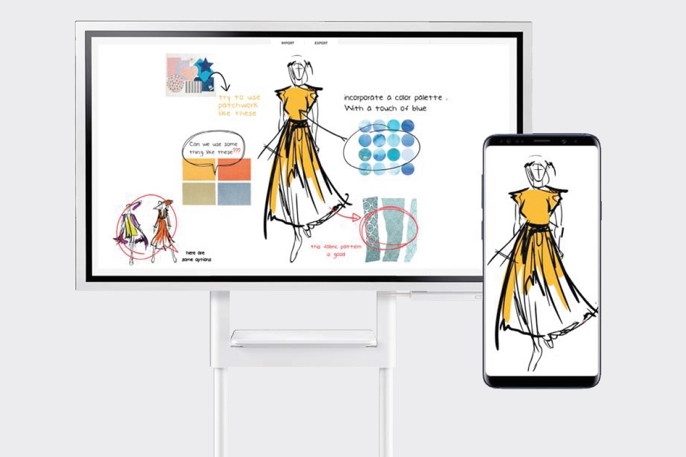 Quickly and Easily Import Content to Share
The Samsung Flip allows you to import images, videos and other content via NFC, screen mirroring or HDMI, then share them directly on the Flip's screen. You can then easily enlarge and annotate your content, then capture the page to save it.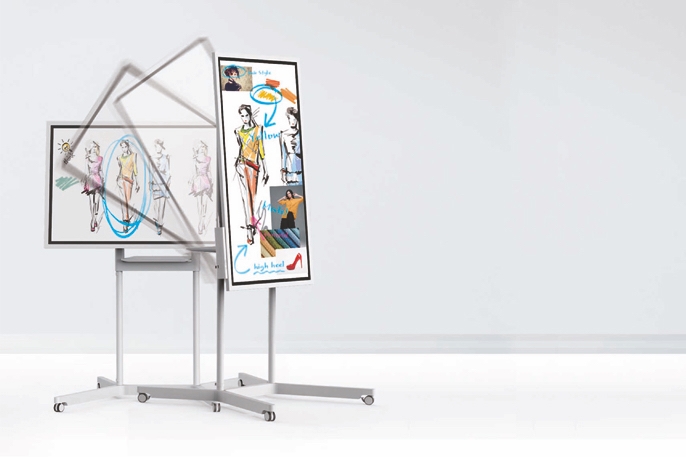 From Portrait to Landscape and Back Again
One meeting has content that's best presented in portrait orientation. The next meeting has landscape content and four collaborators. You can rotate the Flip from one orientation to the next in an instant.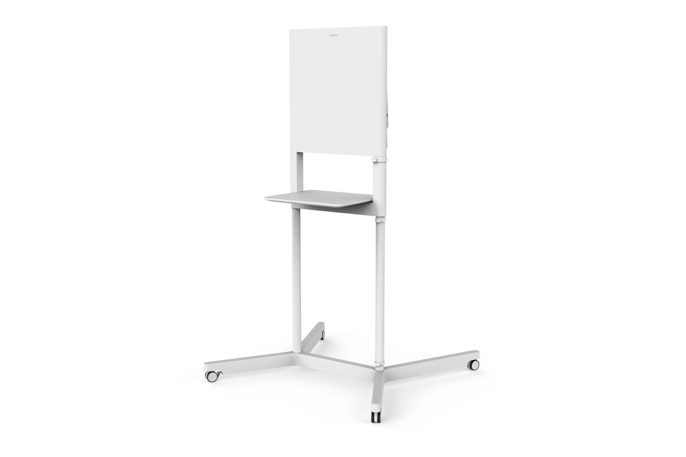 Flexible and Portable Installation Options
The Samsung Flip is easy to move around the office with its rolling floor stand (sold separately), or it can be mounted on the wall with a rotational mount. Both options allow for easy pivoting between landscape and portrait orientation.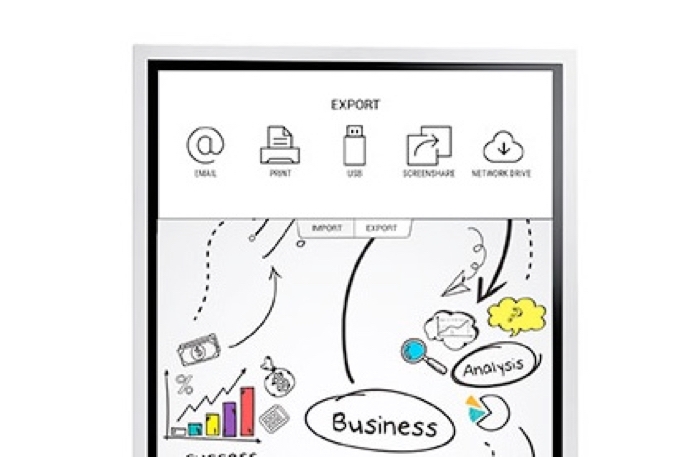 Instantly Distribute Meeting Notes
The Samsung Flip makes it simple to save and distribute notes. No more taking pictures of paper pads and whiteboards or tasking one person to accurately consolidate all the notes. The Samsung Flip stores your meeting securely, then lets you share all the notes via email, network, thumb drive or even printouts if you want.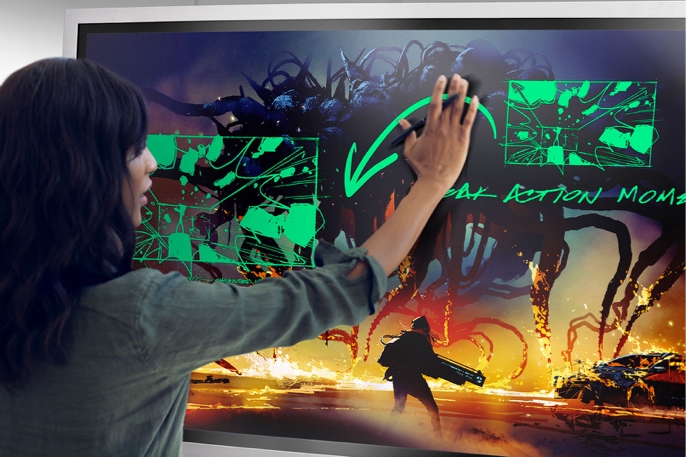 4K UHD Ensures Crisp, Captivating Images
Every presentation, every image and every video will be reproduced clearly and accurately. 4K UHD resolution and Samsung picture technologies ensure it. You can also mirror the Flip's screen to a larger display, to ensure everyone in the room has a view.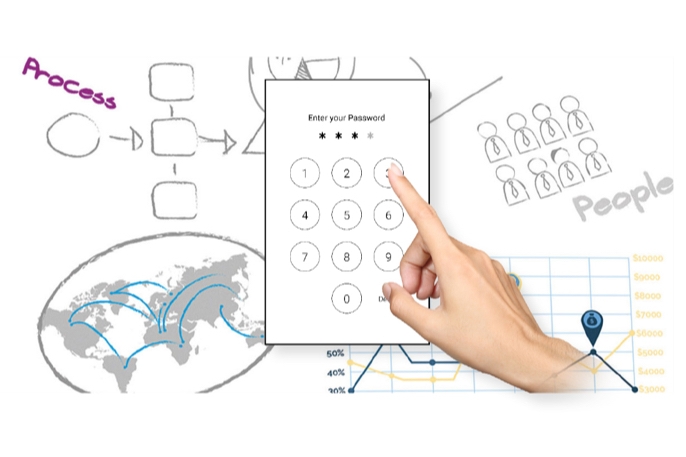 Your Content is Safe and Secure
The Flip securely stores all your meeting pages and notes when your meeting is do